<for the lazy>
I found sponsored stories gave 4x better cost performance than standard FB ads at just 0.18GBP per new fan. If you wanna find out how/why read on!
</for the lazy>
I recently decided to test out facebook's advertising platform for artweb.com with the goal of increasing the number of fans to our FB page.
Control Case/Background
Since we launched our FB page last year, after an initial influx of fans the trend seemed to be just over one new fan a day on average. There's no special activities going on during this period, so I'm confident this serves as a good 'control case' of the number of new fans per day.

At the start of these tests we had around 500 fans (all organic).
Case 1: Advert -> FB Landing Page
Our first tactic was to create an highly targeted ad shown to potential cusomers with a 'like us on facebook' incentive:

This advert went to a landing page (custom FBML page) with a big graphic saying like us for a 20% discount code. Nice and simple.
Using the advert settings we narrowed down the users to a few very narrow art related group, close to the demographic and interests we see in our typical users, here's one group:
who live in the United Kingdom, age 21 and older,
who like art, art design, artwork, contemporary art, fine art, illustration, modern art, painting, sculpting or sculpture, who have graduated from university, who studied art design, fine art or fine arts
We ran the ad for a few days with the following results:
And here's the cost breakdown across 4 different target groups: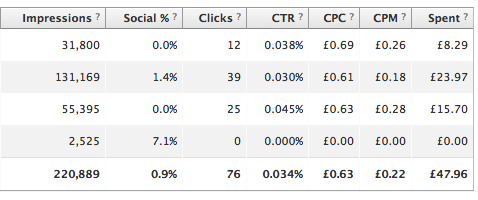 Results
So with this short 3 day test we picked up 60 new users at a cost of just under 48GBP, so that works out at around 0.80GBP per new fan.
Case 2 – Sponsored Story
So next up we wanted to see how the 'social effect' of sponsored stories would work for us. Sponsored stories seemed quite attractive, because the almost don't seem like adverts, they only go out to friends (so it's kind of like the stories on a users wall) and it's just a little box with no advertising copy:
And just like normal facebook ads we could be very targeted:
who live in one of the countries: United States, New Zealand, Canada, United Kingdom or Australia, age 18 and older, who like art, art design, art history, artwork, contemporary art, digital art, fine art, fine arts, illustration, modern art, painting or sculpting, whose friends are already connected to ArtWeb.com
So we ran this campaign for 7 days with the following results:



And a break down of cost:


Results
We had 351 new fans at just over 63GBP, so that's about 0.18GBP per new fan which is over 4 times more efficient than the advert case.
Observations and Conclusions
Our results show sponsored stories to have a much better CTR and cost performance with the goal of increasing fans. It's no surprise to me that the sponsored stories attracted more fans – they have the crucial endorsement from a friend (or friends), plus no advert copy so it hardly even looks like an ad!
I should point out that from a business perspective advertising copy makes an important distinction, it gave us a chance to succinctly mention our commercial services whereas the sponsored story gave less of a chance – someone liking the sponsored story might not immediately understand what we offer as a service even after a quick look at our wall. So one should bear this in mind when doing this type of comparison as it, we may have more fans with the sponsored story but do they really know what we are about?
18pence for a fan!
As a general marketing observation, 0.18GBP for a 'fan' seems like incredibly good value – with similar interests/keyword on CPC advertising we'll often bid many times more than this for a single click but we don't yet have enough solid conversion data about traffic from our facebook page to draw a real comparison. However even without direct conversions, the long term value (brand awareness, user interaction, friend referal, kudos from having a million fans, potential SEO implications to mention a few) of a fan makes this good value.
Also I note the wall street journal reports $1.07 as a typical cost per fan.
This 'good value' won't last though, it's still early days. Like with CPC you can bet yo ass it'll get more expensive.